Can you imagine flapping your wings from Alaska to New Zealand? ‍ Well, …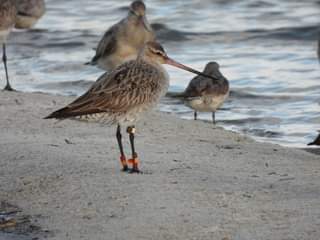 Can you imagine flapping your wings from Alaska to New Zealand? 😮‍💨
Well, that's what Traveller 6RYBR, a migratory Bar-tail Godwit, does every year!
Last September, our #QldParkRangers spotted Traveller while
out and about in the Moreton Bay Marine Park near the Toorbul Bird Roost.
Identified by her leg-band, she was spotted resting and feeding on the mudflats, on her way to her usual summer stopover in the Manawatu River estuary on New Zealand's North Island!
Fact: Bar-tailed Godwits are migratory shorebirds that make a round trip of up to 25,000km between Alaska and New Zealand each year, following the East Asian – Australasian Flyway Partnership (EAAFP).
Check-out image 3's caption to… More